Patrice Coquereau
speakeractor, author and director
In addition to his roles in the popular TV series Rumeurs and le Coeur a ses raisons, Patrice Coquereau, speaker, has also appeared in Les Bougon, 3,600 secondes d'extase, Vrak la vie, District 31, 30 vies, Indéfendables, Stat and Le Bonheur, among others. He has appeared in several films, including De père en flic. He was also an improviser for three seasons at LNI. With nearly 80 theatrical productions to his credit, he has performed on every stage in Montreal, in a multitude of genres, with a particular emphasis on creation. He is currently working on a solo that will see the light of day in 2025. Patrice Coquereau has been touring Quebec since 2022 with his hugely successful Symphorien.
In 2014, he wrote Heal with Throat, a best seller recounting his life journey and personal experiences related to anxiety disorders.
40 years in the business. More than ever, Patrice Coquereau is driven by the fire of play and communication. You can follow him on Twitter @PCoquereau, Facebook perso and Facebook Patricecoquereauofficiel as well as on his website patricecoquereau.com
---
Patrice Coquereau's conference:

Duration: 45-90 minutes, adaptable.
As an option, add a 20-minute discussion period with the audience.
Conference available in French only.
A preparatory call is planned to adapt the content of the conference.
---
Face to face with anxiety
An excellent actor, we had no idea that Patrice had suffered from major anxiety disorders. Now recovered, he delivers a message full of hope, and shares the tools he's forged himself to break free. His passion for words and his talent as a comedian make him a one-of-a-kind. speaker who will inspire you to achieve anything you once thought impossible.
 Topics covered :
A look back at the first anxiety attacks
The transformation, the return to balance
Life is essentially movement and impermanence
The tyranny of the norm or limiting oneself to imitation
The present moment, the inner support
Say yes to expansion, die to the old
---
Patrice Coquereau is also one of the trainers of the webinarsFormax series: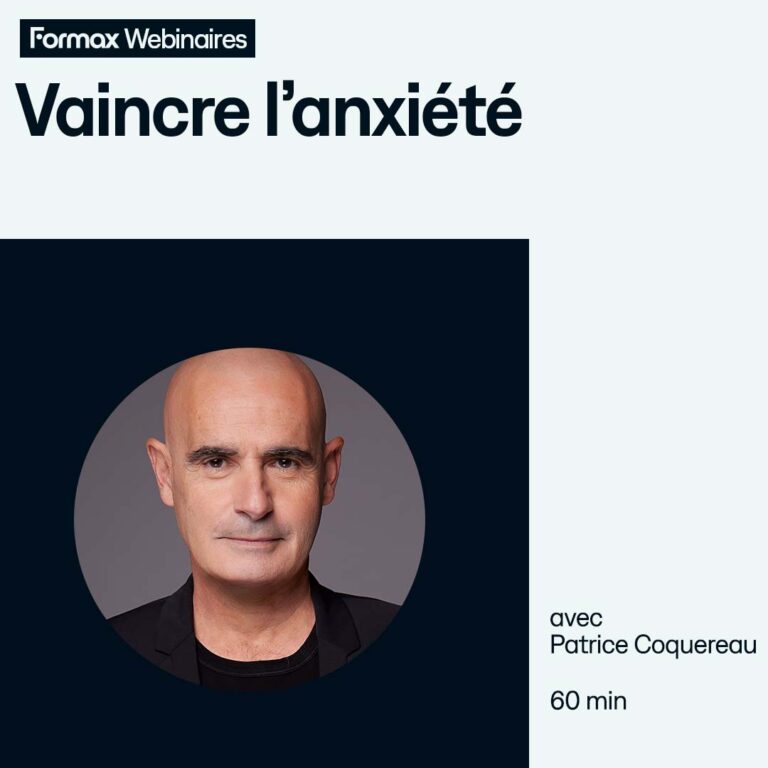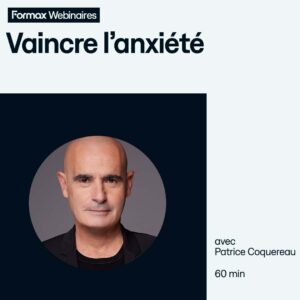 ---
Patrice Coquereau, speaker, is also available for variousanimation mandates. Contact us to find out more!
Biography of Patrice Coquereau :
With nearly 80 theatrical productions to his credit, Patrice Coquereau has dabbled in all genres: classical theater, contemporary theater, and above all, Quebecois creation.
TELEVISION
In addition to his roles in the popular series Rumeurs and Le Coeur a ses raisons, Patrice Coquereau has appeared in Vrak la vie, for which he received a Gémeaux, District 31, 30 vies, La Théorie du K.O., Toute la Vérité, Les Bougon, Les Bobos, Un gars, une fille, 3600 secondes d'extase, Indéfendables, Stat and Le Bonheur. He also played three seasons on the L.N.I., where he won the Robert Gravel Trophy in 2000.
THE CINEMA
We've seen him in several film productions: De Père en flic, Le Sens de l'humour and Laurence anyways . In 2017, he starred in two successful films: Votez Bougon and Père fils thérapie, released in Quebec and France. In 2019, he is in Émile Gaudreault's latest film, Menteur, as well as Podz's Mafia Inc.
THE STAGING
He has directed three plays, Lucidité passagère, Cravate club and La Déprime, and was entrusted with a fourth major production in 2016: Les Tannants, a show that also toured Quebec in 2017.
THEATER
From 2022 to 2025, Patrice plays Oscar Bellemarre in the theatrical version of the legendary TV series Symphorien . He is currently on tour throughout Quebec.
A BOOK, A CONFERENCE
Patrice Coquereau also gives talks on anxiety. Spring 2014 saw the release of his autobiographical and best-selling book Guérir à gorge déployée, recounting his journey to recovery from anxiety disorders. After a career spanning 40 years, Patrice remains enthusiastic and driven by multiple projects.
Patrice Coquereau, speaker has a number of projects in the pipeline that he is developing and bringing to life. Green light for another work cycle!
Wellness and personal development
Anxiety
TECHNICAL REQUIREMENTS :
Wireless headset
Small table (for notes and water bottle)
Patrice Coquereau in conference:
Excerpt #1 - Face to face with anxiety conference - Patrice Coquereau
Excerpt #2 - Face to face with anxiety conference - Patrice Coquereau
Extract #3 - Face to face with anxiety conference - Patrice Coquereau